Mantegna 5L bag in box
Extra virgin olive oil monocultivar "Mantegna"
VAT included
Shipped within 7 working days
Secure payment
fast shipping
Data sheet
Type

Monocultivar extra virgin olive oil

Cultivar

Leccio del corno

Origin

Abruzzo, Italy

Fruity

Intense

Size

5 L

Packaging

Bag in box

Method of processing

Continuous cycle milling, cold extraction

Traceability

Blockchain Evolution

Harvest

2021-2022

Best before

31-12-2023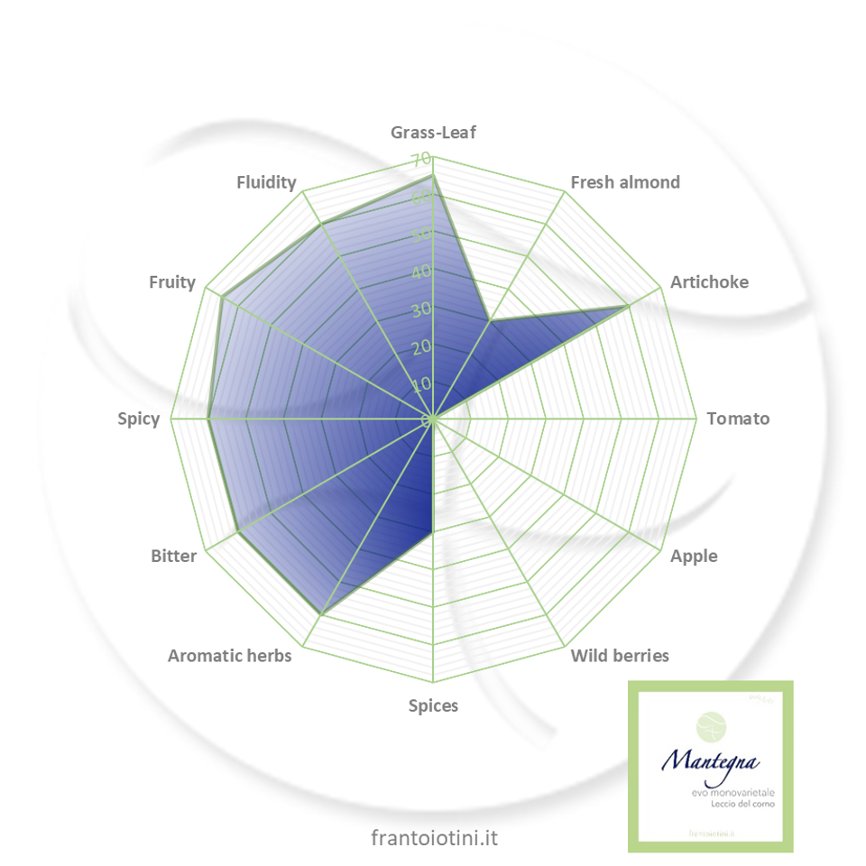 Sensorial profile: Medium intense fruity, with vegetal scents of grass, artichoke, lettuce and chicory associated to aromatic notes. Full and complex mouth with decisive and pleasantly persistent bitterness and spicy.
Pairings: Ideal for legume starters, spelled soups, steamed beans, tomato salads, baked or boiled potatoes, baked rabbit, roasted poultry, pasta with salmon, gratin molluscs, swordfish tartare, seasoned cheeses.
Line description: Mantegna is an extra virgin olive oil obtained by solely native olives of Leccio del corno variety. Mantegna is born from the milling of olives harvested by hand at the right degree of ripeness and processed within 4 hours. This shrewdness to avoid altering its aroma, nutritional properties and organoleptic qualities. The careful selection of the raw material combines quality and tradition, full expression of the experience of the master olive oil which, through mechanical processes and cold extraction, creates an extra virgin olive oil of excellent quality.
BAG IN BOX
PRESERVE THE QUALITY OF THE OIL
The Bag in Box preserves the quality of the oil, protecting it from light and air, avoiding oxidative phenomena. This is possible because the bag is vacuum-packed, as it empties it retracts, preventing oxygen from entering. The box isolates the bag avoiding thermal changes that compromise the quality of the oil. All this considerably increases the shelf-life of the product.
EASY TO USE
The possibility of tapping the product directly using the dispensing tap avoids waste and product transfer.
ECO FRIENDLY
The Bag in Box is a recyclable and eco-sustainable packaging: by separating the box from the bag and from the tap, disposable and recyclable parts are obtained in the paper and plastic supply chains.
14 other products in the same category: